I started Mastodon.Beer on 2022-10-29, the day after the Twitter deal closed. I lost what little remaining interest I had in using the site. I knew I would miss many of my friends there. I had been thinking about adding a Mastodon server to the small fleet of servers I run, or self-host. I was lucky enough to acquire the domain a few months earlier, when the deal was first announced. When I created the instance, I thought I might persuade a few people from Beer Twitter to at least try the Fediverse, what we call all of the servers that run software like Mastodon that can talk with each other or federate. I didn't have too much more thought out than that at the time.
I see this as an experiment. I create technology for a living and have some experience from that and my own creative pursuits running various services. I have acquired some skills and training, also through my profession in tech, that may help with issues that are likely to arise in whatever community forms here. Beyond that, I will do my best to figure things out. I know I don't know it all and that's a risk. I will accept help, in the form of donations, volunteers, and expertise.
Goals
Create a welcoming, safe space.
Be as transparent about operating this server as possible.
Only manage as much as I can.
I really have no idea how this instance may grow so am keeping things simple to start. The last goal is critical but may change depending on how the community uses this server. I am open to supporting it on my own indefinitely if it remains small or accepting volunteers to administer and moderate if growing makes sense.
Our Own Elephant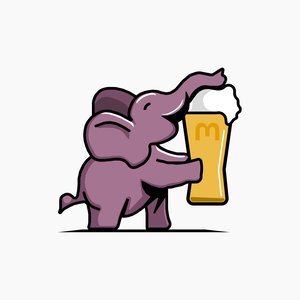 Eilidh the Elephant adorns the web interface for our server. Turn on the advanced view to see her hanging out in the lower left corner.
Thandi, of the Beer Ladies Podcast, created Eilidh on commission from me.
I am making her likeness and design available under a Creative Commons Attribution-NonCommercial-ShareAlike 4.0 International License. I ordinarily don't use the non-commercial clause but wanted to protect future opportunities to support our server through merchandise sales.
You can download an archive of PNG and SVG versions of her.
You can read the announcement of her name and how she came to be.